Vehicle Wraps
Calvert Southern MD VA Vehicle Wrapping, Fleet Wrap, Graphic Design and Installation

TNT Signs & Graphics LLC's latest and greatest form of advertising product is the mobile billboard or the vehicle wrap. TNT can design, produce and install high quality and high resolution car, truck and fleet wraps.
A car wrap maximizes the area your advertising reaches by making it move like a rolling billboard, is cost effective, and can provide your business with a new look.
A moving vehicle wrap has a one-time fee to advertise and be seen in the whole Washington DC, Southern MD and Virginia area while other advertising methods require you to spend more and more money.
Vehicle wraps allow you to control who and where your wrap will be seen. The more you drive, the more exposure your business will get.
Full or Partial Wraps
We offer a wide range of car, truck and van wraps from a quarter wrap all the way up to a full car wrap. Whether you want to advertise your business or just yourself, we can wrap your car, truck, van, motorcycle, sport bike, semi-truck, and even your boat!
Vehicle wraps are one of the most popular out of business advertising methods in the market today.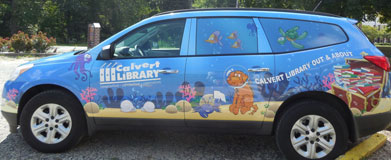 Whether you need to wrap one car, truck or vehicle or twelve, Email Us at tnt@signsandgraphicsllc.com
or call us at 301-704-1414 today and let us put your ideas rolling down the road!
---
FAQs on Vehicle Wrapping:
How much does it cost to wrap a whole car?
How much does it cost to wrap a full-size van?
How much does it cost to get a wrap on a truck?
Are vehicle wraps worth it?
How long does a wrap last?
Does wrapping your car ruin the paint?
Does wrapping a car decrease its value?
What are the pros and cons of wrapping a car?
Can you take a wrapped car through a carwash?
Does vinyl wrap fade?
How can I make my vinyl wrap last longer?
Do you have to tell your insurance if you wrap your car?
How long does roof wrap last?
What are the benefits of vinyl wrapping a car?